Glue Insights is a collection of the most interesting data points and facts about
virtual collaboration, remote work and the VR industry.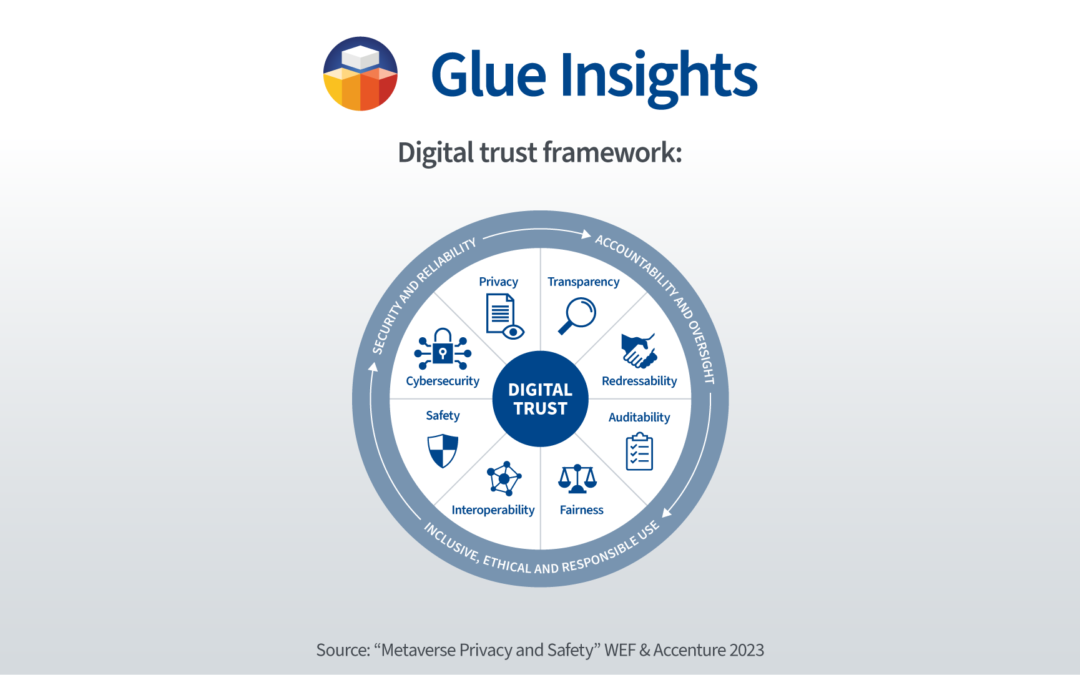 World Economic Forum in their recent report with Accenture talks about the metaverse privacy and safety. The report emphasises the importance of digital trust and says that: "Digital trust will be paramount to metaverse adoption as it is a critical building block for...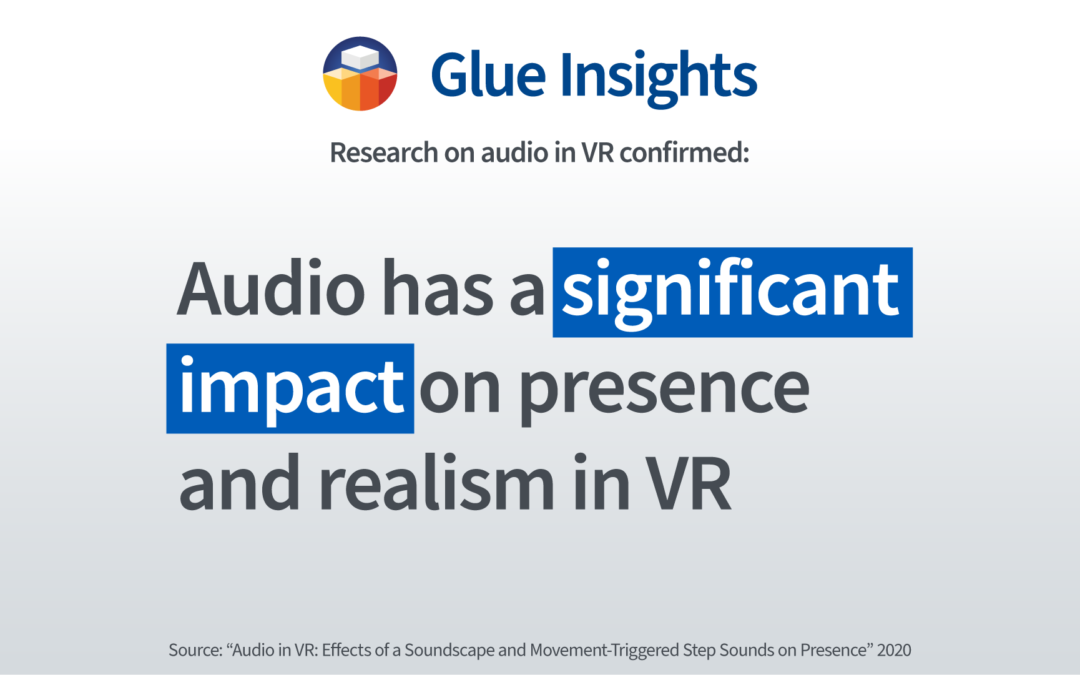 Research on audio in virtual reality concluded: Audio has a significant impact on presence and realism in VR Why? Audio plays a crucial role in creating a sense of true presence or a feeling of "being there" in VR. When the audio is well-designed and fits the virtual...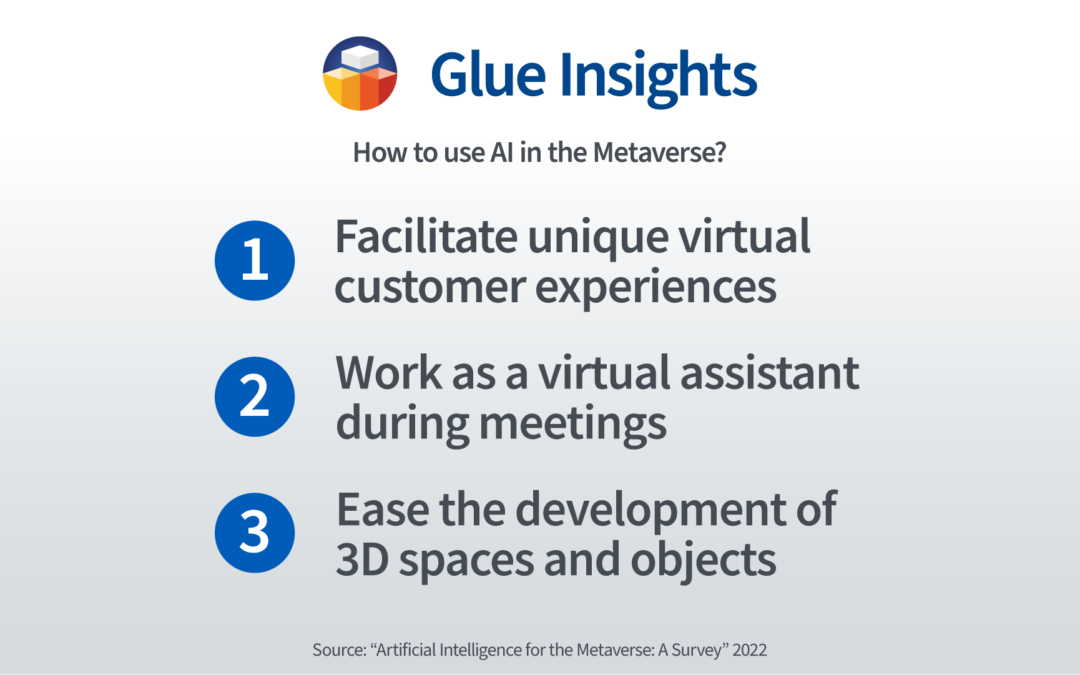 AI and Metaverse can truly be a powerful combination. Recent study on use of AI in the metaverse highlight three main use cases for AI in virtual environment context: 1. Create unique customer experiences With AI in the metaverse, you can provide personalized customer...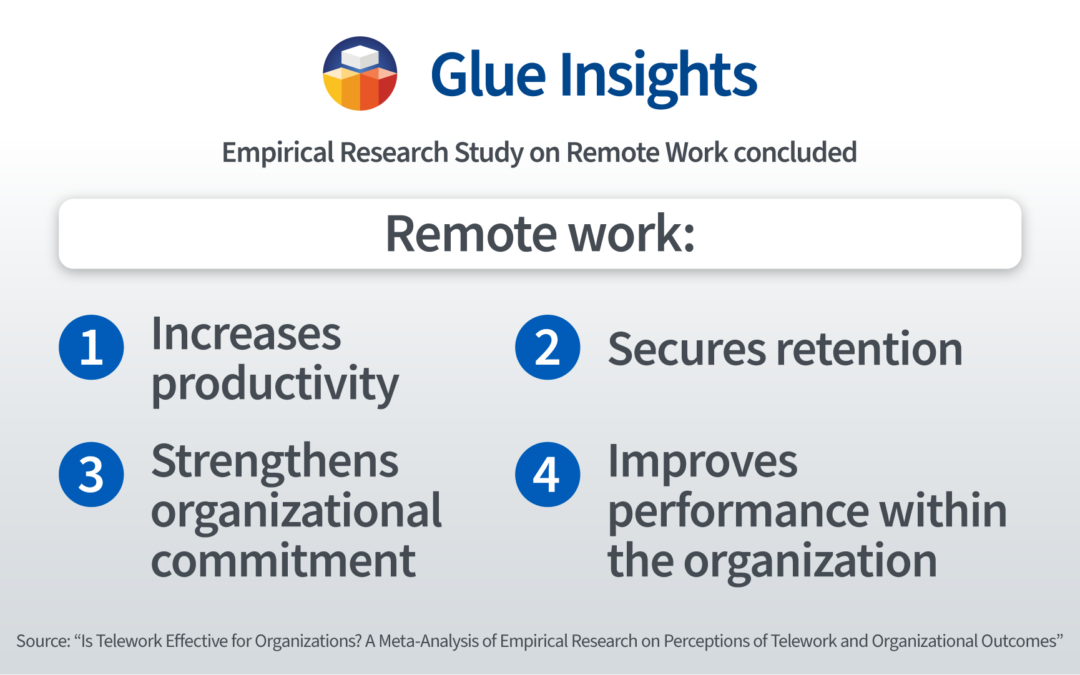 Is remote work effective for organizations? Empirical studies reveal 32 correlations indicating a positive relationship between remote work and organizational outcomes. Positive impacts to organizations include: 1. Increase in productivity Reduced distractions,...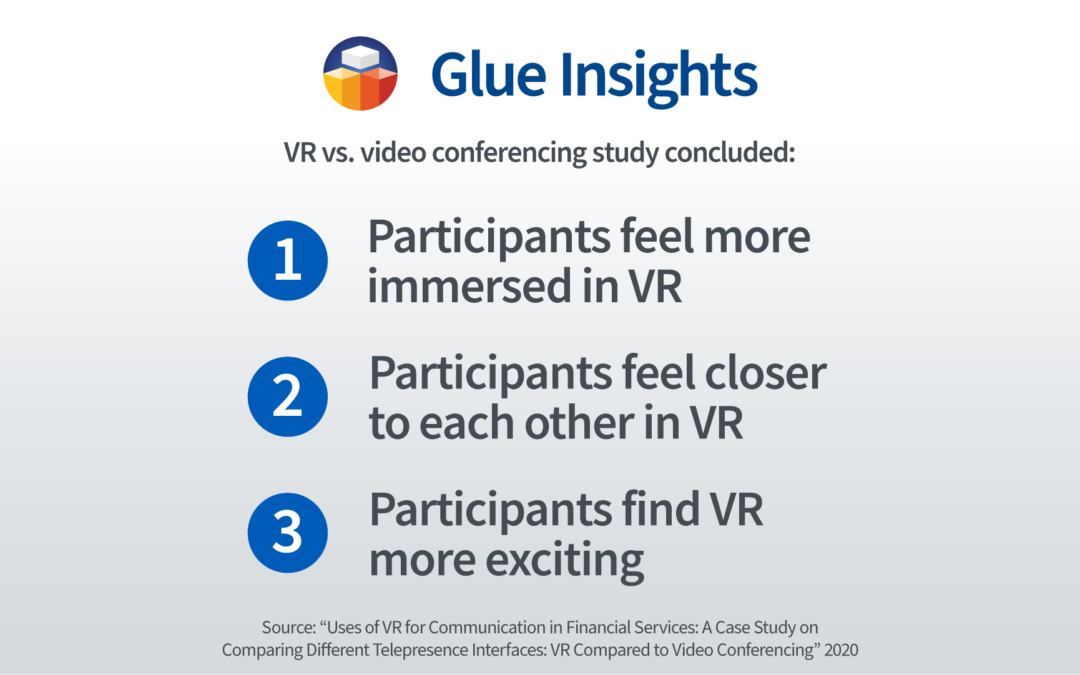 A study on the uses of VR for communication has compared VR to video conferencing and found that in VR: 1. Participants feel more immersed VR provides a strong level of immersion and a feeling of presence that surpasses traditional video conferencing methods. The...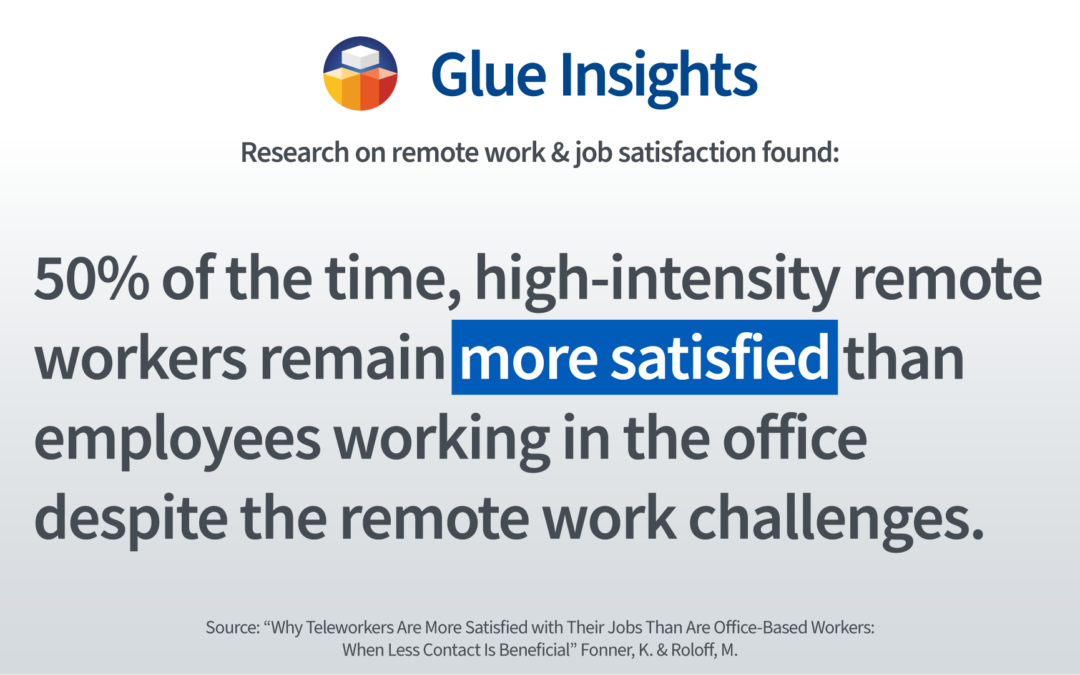 Research on remote work provides an interesting conclusion: Despite the challenges of remote work, 50% of the time, high-intensity remote workers are more satisfied than employees working in the office. One of the reasons for higher job satisfaction is connected to...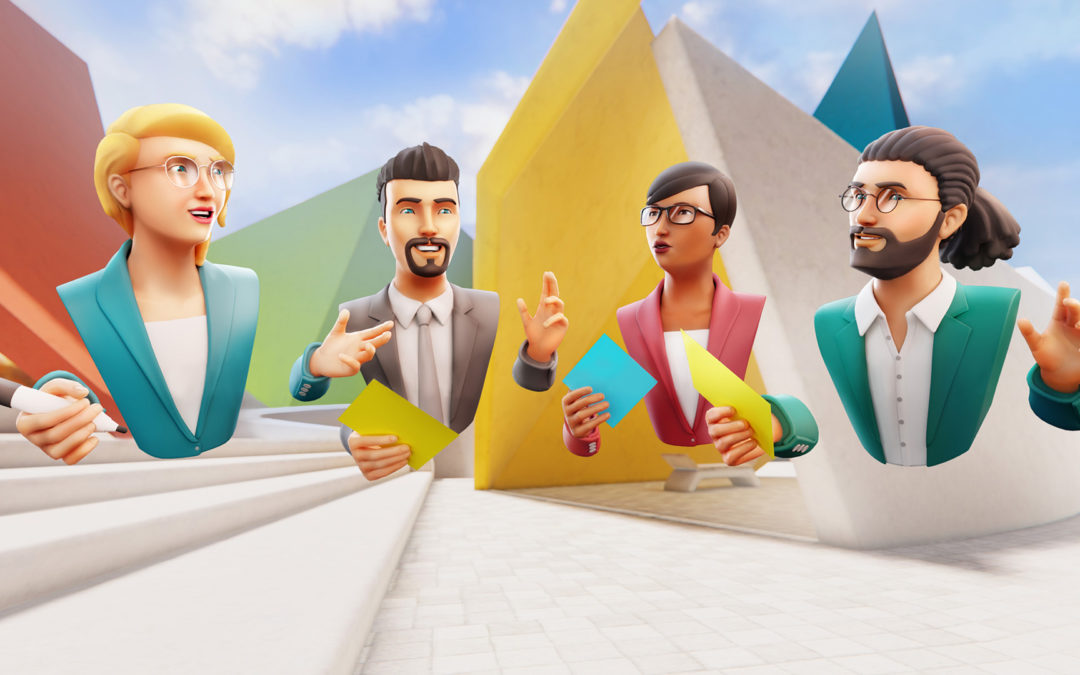 I can still recall my first encounters with e-learning tools two decades ago. They were click-through exercises on my company's code of conduct and sourcing policies. As important as these exercises were, I don't remember being thrilled with the quality of the...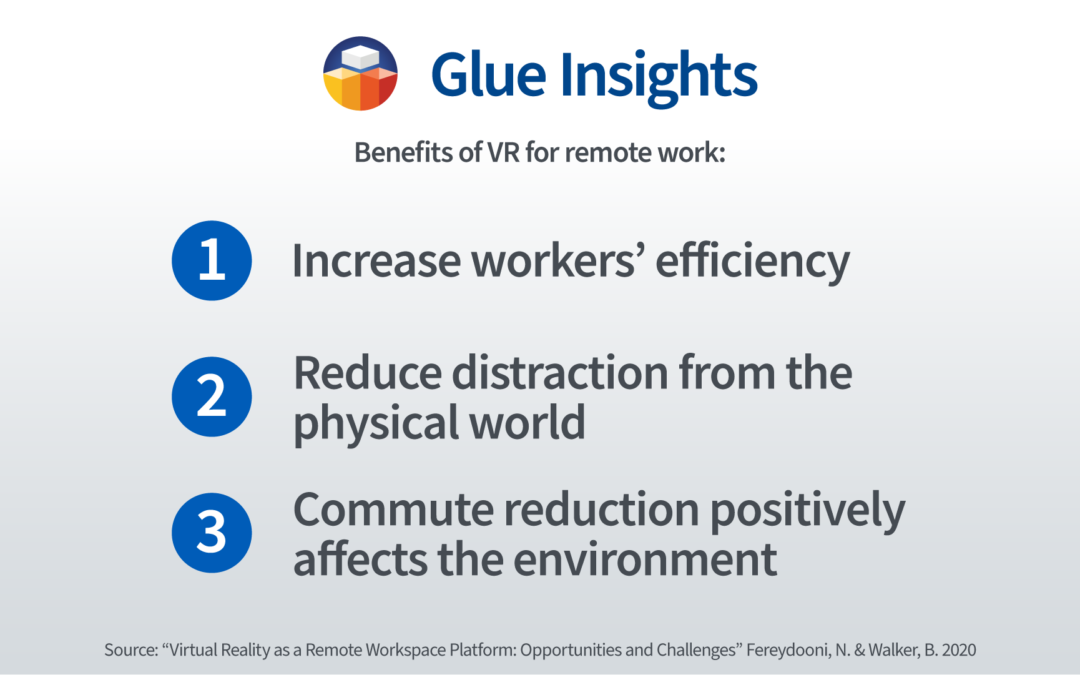 How VR enhances remote work? A study on VR capabilities for the work-from-home (WFH) settings found that VR: 1. Increase worker's efficiency By using immersive virtual workspaces, VR enhances individuals' focus on tasks and facilitates more efficient collaboration in...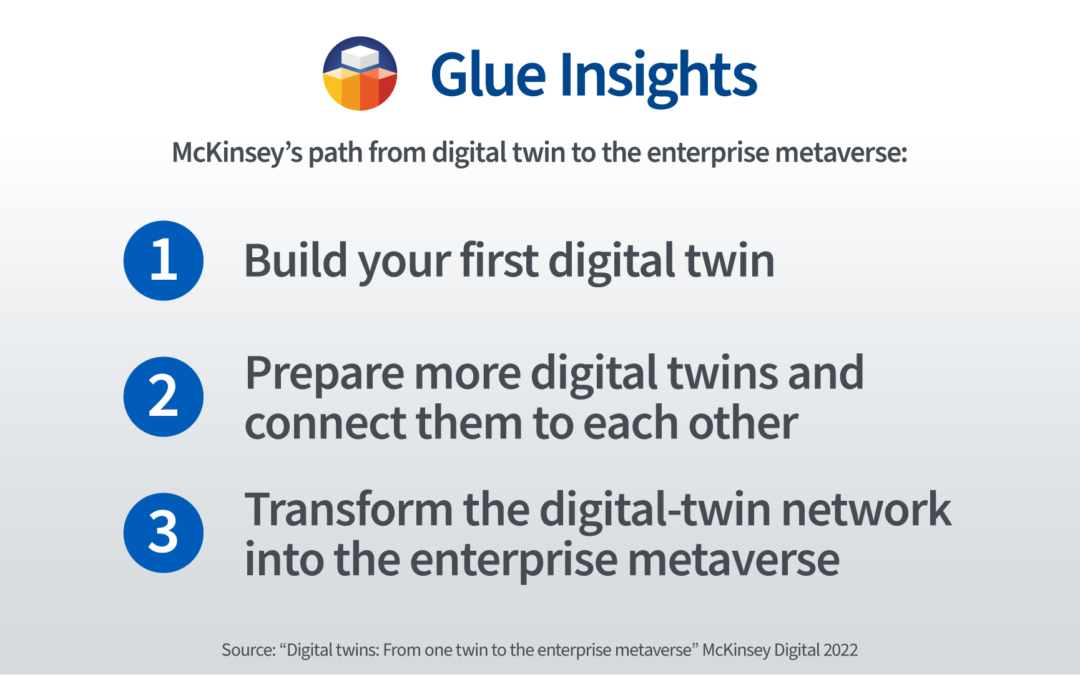 In their article, McKinsey Digital talked about moving from one digital twin to the enterprise metaverse. Here are 3 steps to consider: 1. Build your first digital twin The first digital twin should be based on value drivers, reuse potential, and data feasibility...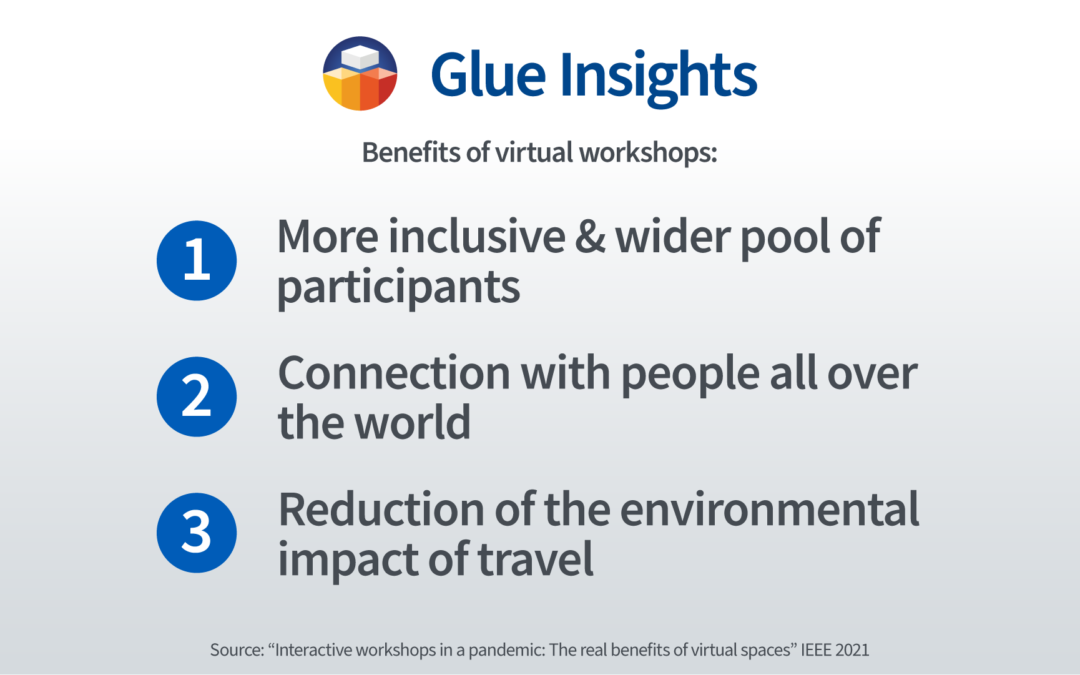 The research on interactive virtual workshops identified that even after the pandemic, virtual workshops have their unique advantages: 1. More inclusive and provide a wider pool of participants Breaking down geographical barriers and opening doors to a wider audience....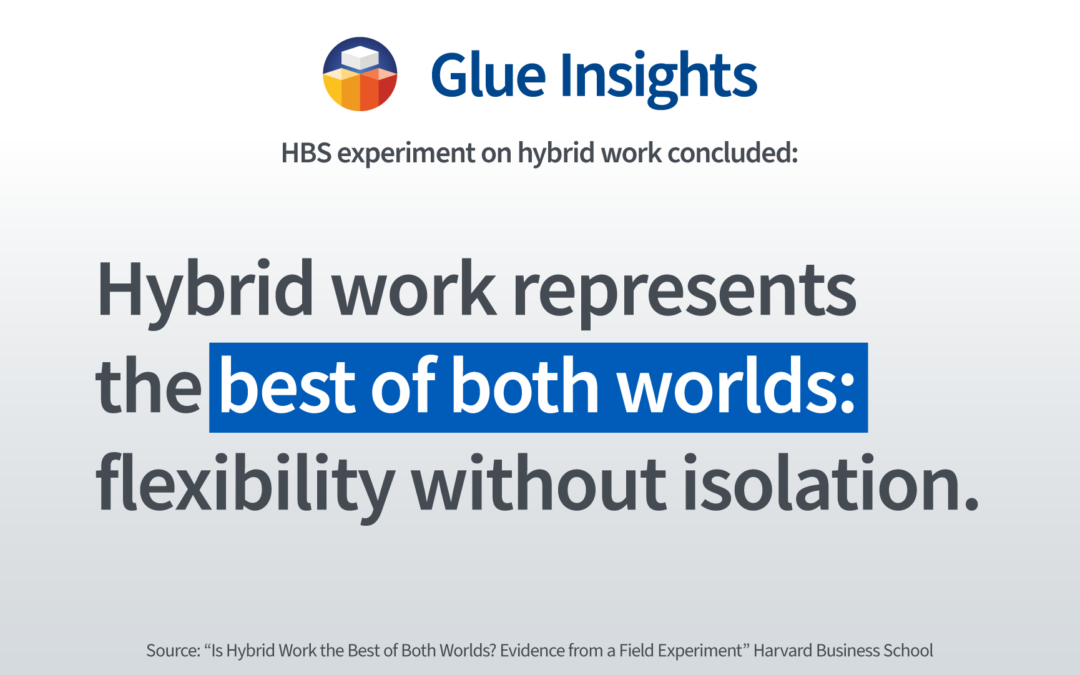 Is Hybrid Work the best of both worlds? Harvard Business School researchers examined this question and found that: An intermediate number of days in the office resulted in more emails sent, a higher number of email recipients and an increased novelty of work products....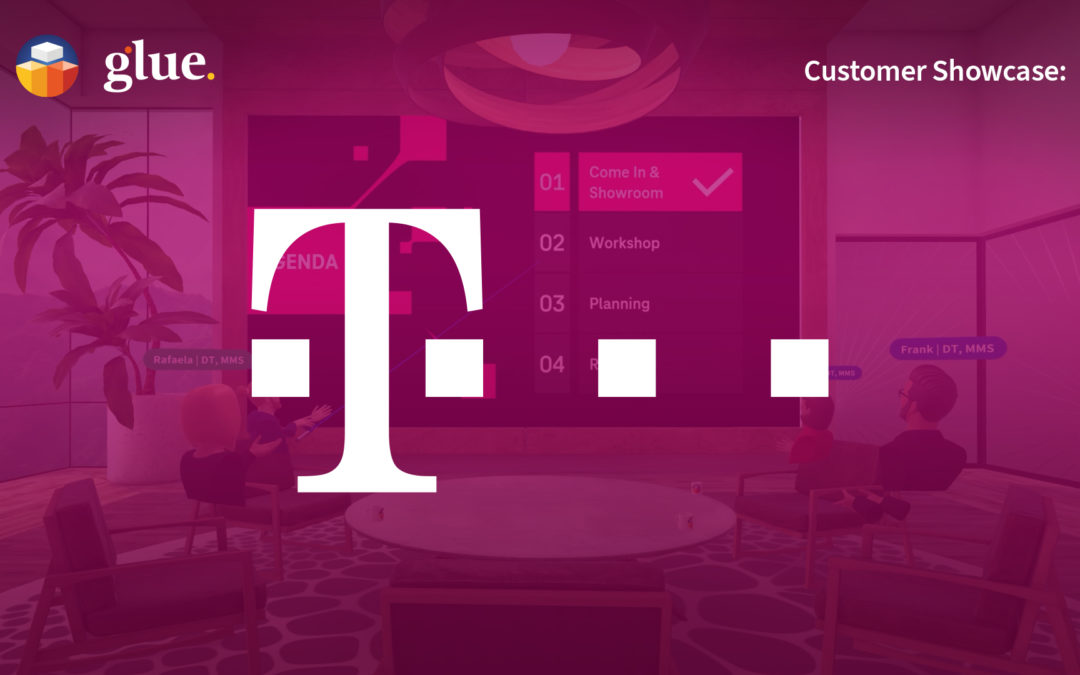 Deutsche Telekom MMS supports large corporations and medium-sized companies in their digital transformation with around 2,100 employees at nine locations. Deutsche Telekom MMS develops end-to-end experiences, which goes beyond digital with the use of virtual reality...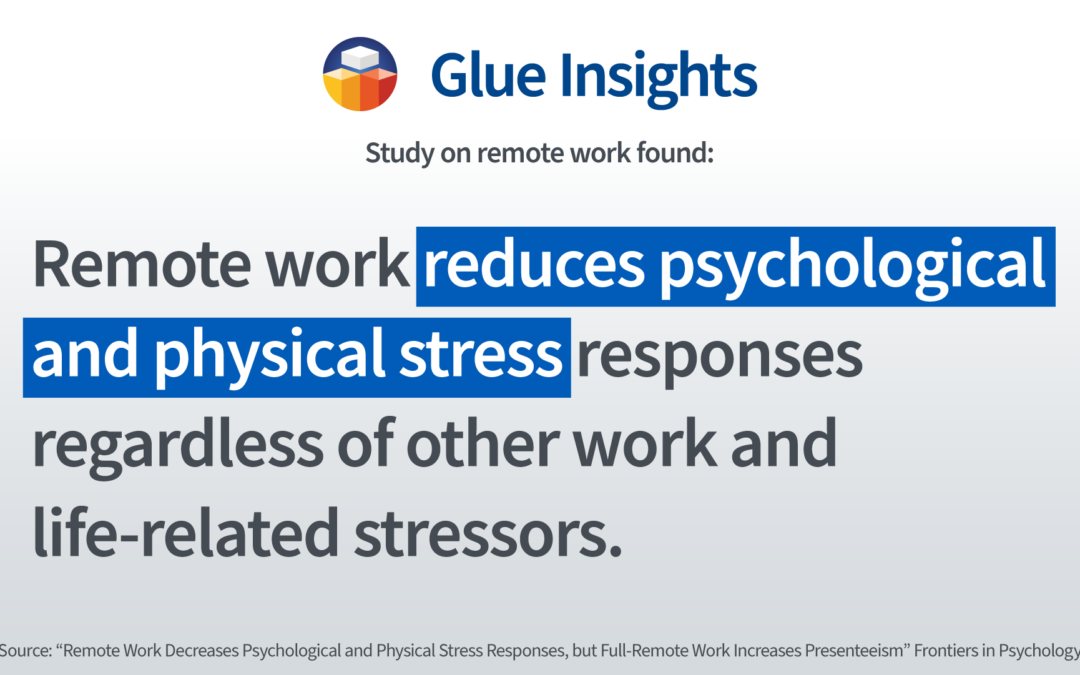 A recent study on remote work with 3,123 office workers has found interesting results: 1. Remote work reduces psychological and physical stress regardless of other work and life-related stressors. 2. Reducing stress responses increase the productivity of remote...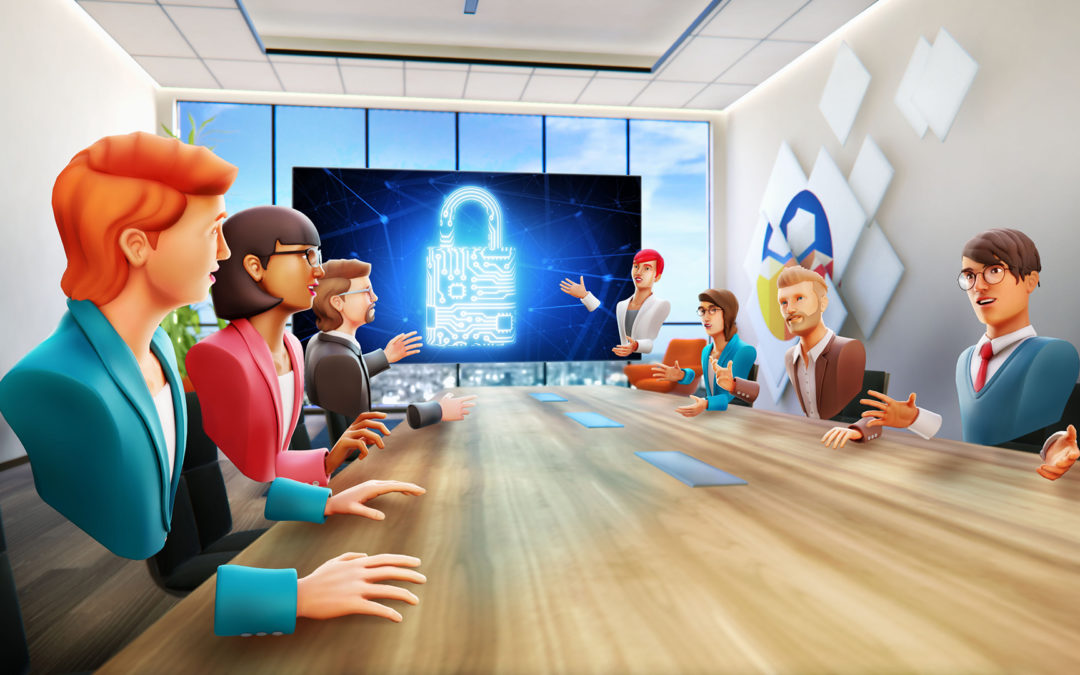 Extended reality (XR) technologies present a wealth of opportunities for businesses to tap into. If you're considering implementing these immersive technologies within your organization, it's essential to adopt a comprehensive security strategy that safeguards your...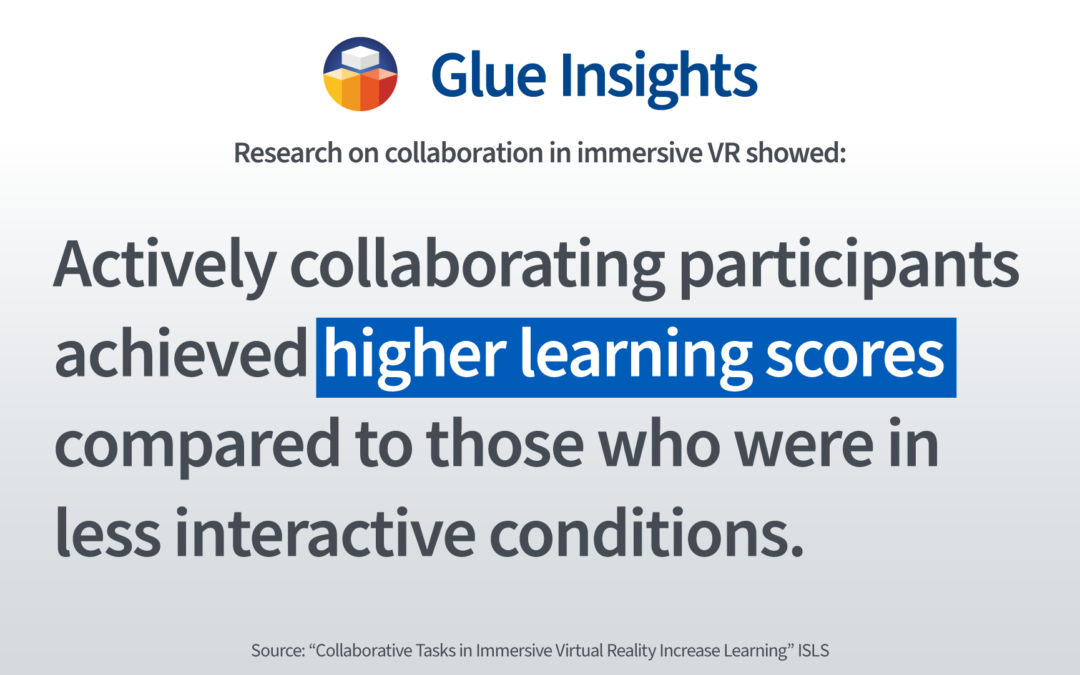 The research on collaborative learning in immersive virtual reality (IVR) draws insightful results: 1. Actively collaborating participants scored higher for learning than participants who only watched an instructional guide's avatar and discussed what they learned. 2....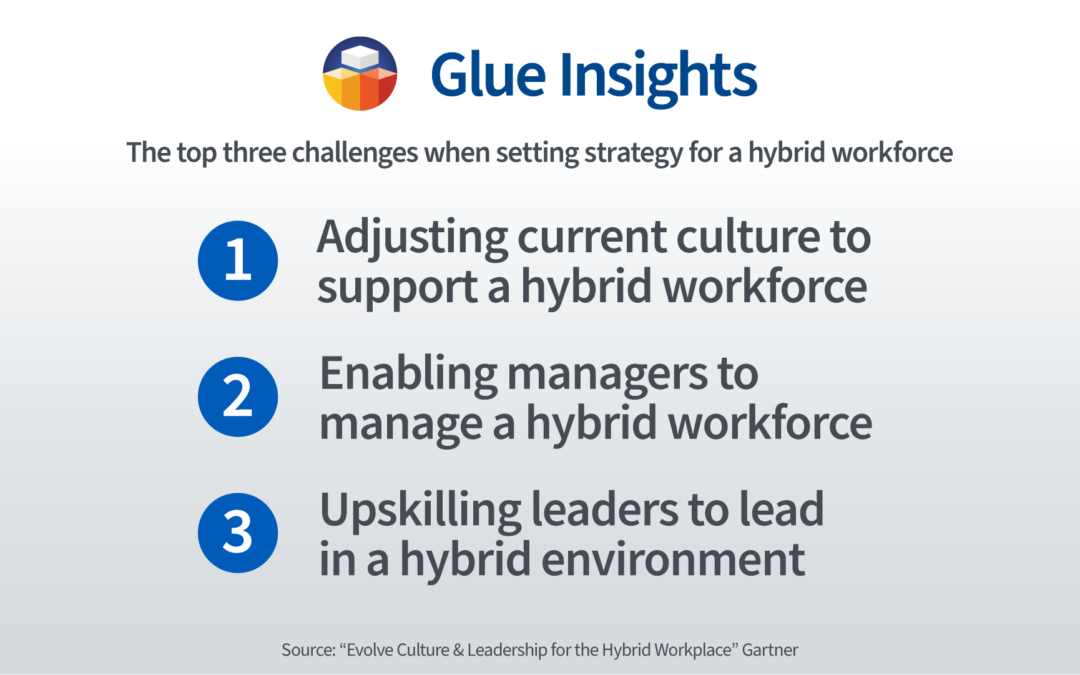 Gartner's report on the culture and leadership for the hybrid workplace identified the top three challenges of adjusting the culture to hybrid work: 1. Adjusting the current culture Establishing culture in the hybrid workplace requires a new approach, as employees...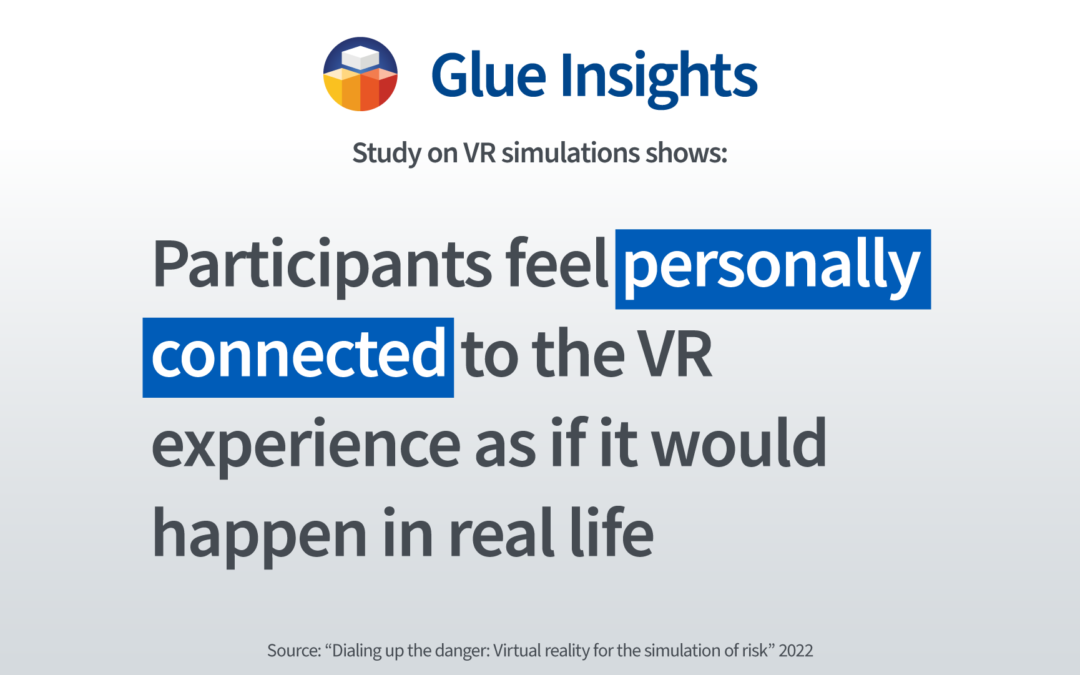 Research on the simulation of dangerous situations in VR concluded that participants feel personally connected to the VR experience as if it would happen in real life. Some of the participants said: "I was really aware of everything happening and I was reacting to it...
Recent research has shown that well-designed immersive environments can significantly enhance learning outcomes. Here are several recommendations on how to make learning in VR more effective: 1. Optimize cognitive flow The feeling of presence in VR can be unfamiliar...
Recent research on remote work transition identified that remote work tasks and workplace suitability positively impact collaboration and work performance. However, to reap benefits from remote work, companies need to foster team collaboration through workspace and...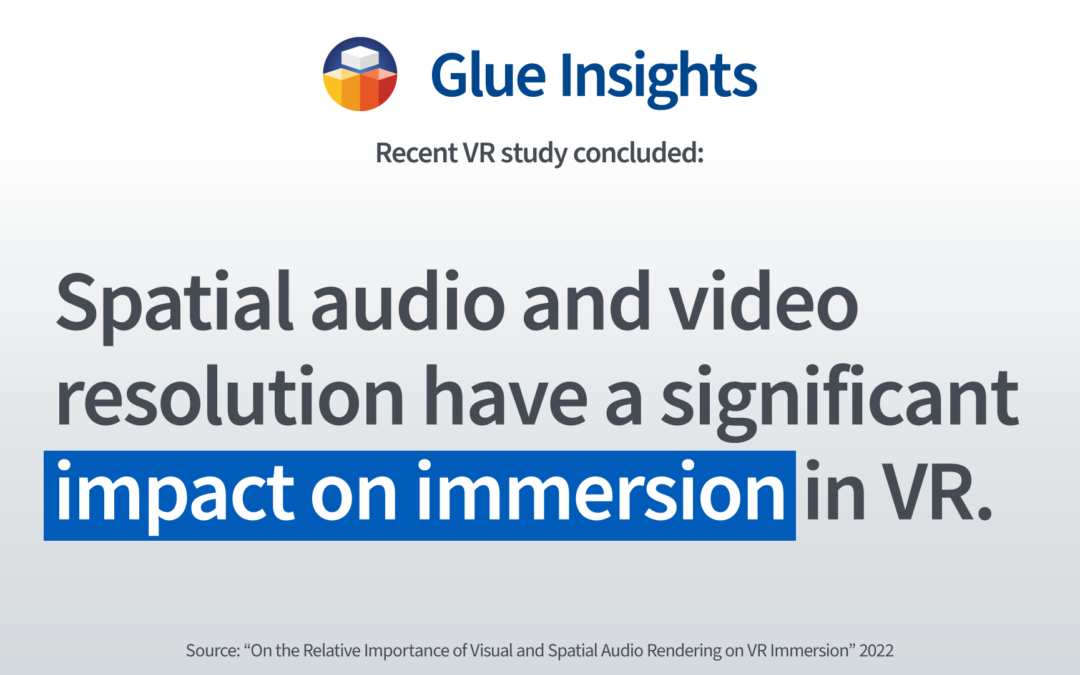 "Both video resolution and spatial audio rendering had a statistically significant effect on both immersion and audio-visual quality." concluded recent research on visual and audio importance in VR. When choosing a VR collaboration platform, it's crucial to consider...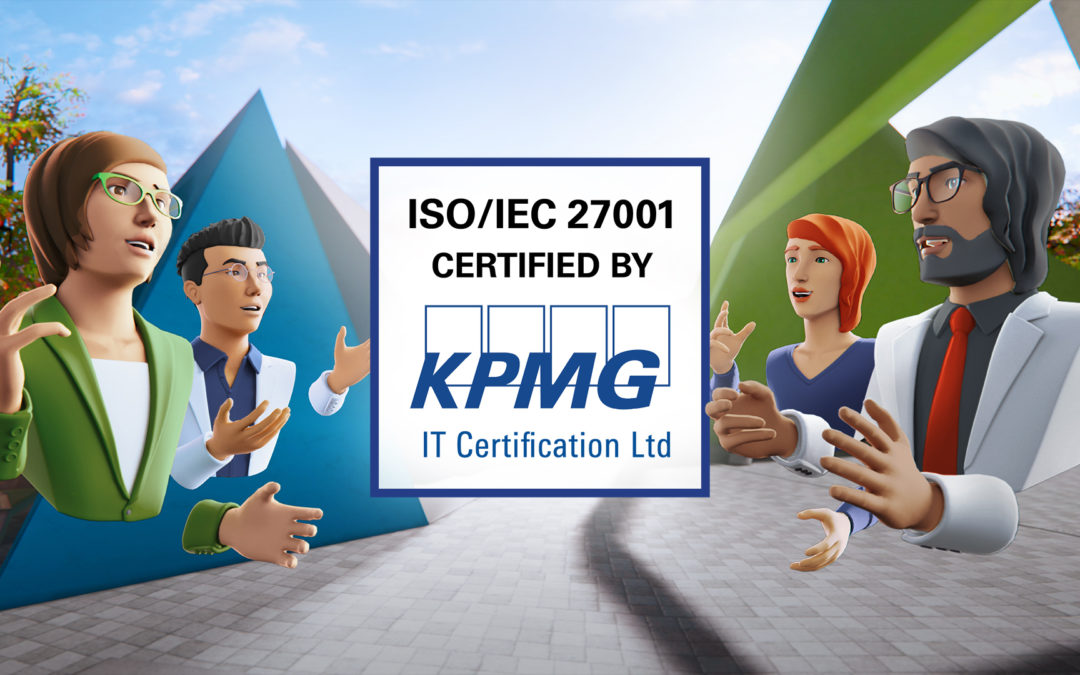 Glue Collaboration announced today that it has received ISO/IEC 27001 certificate for its information security management. The certification is awarded to companies that demonstrate a high level of commitment to protecting their information assets and implementing...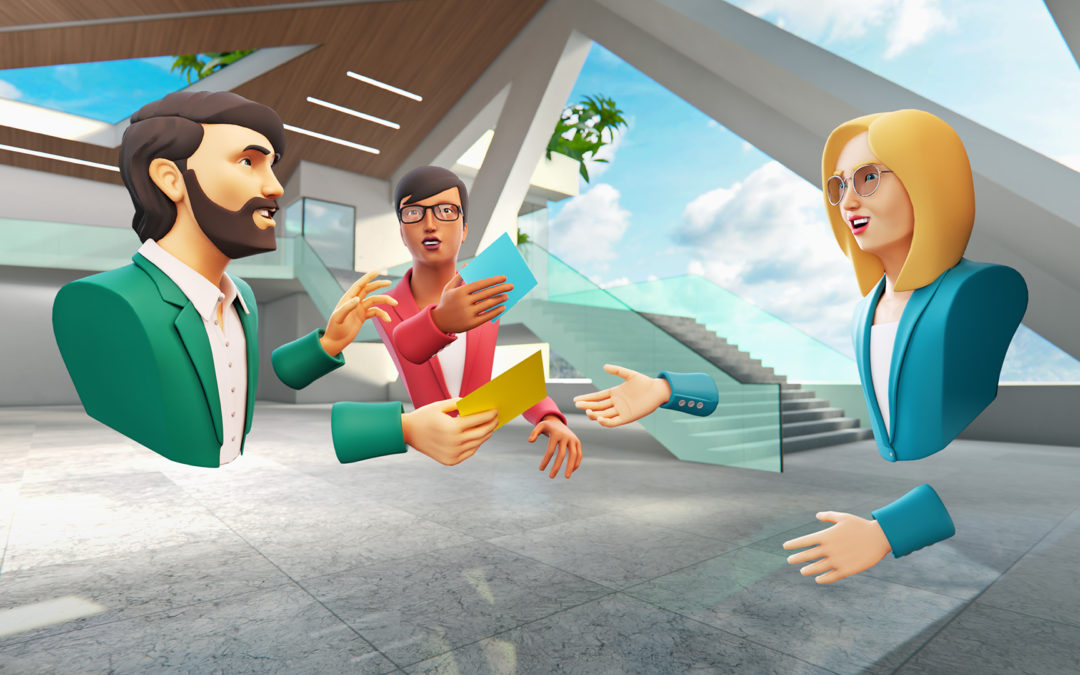 At this year's Mobile World Congress, Qualcomm CEO Cristiano Amon championed virtual reality and artificial intelligence as the future of business. While not the first to do so, his excitement reflects how we're living in a time of rapid technological advancement:...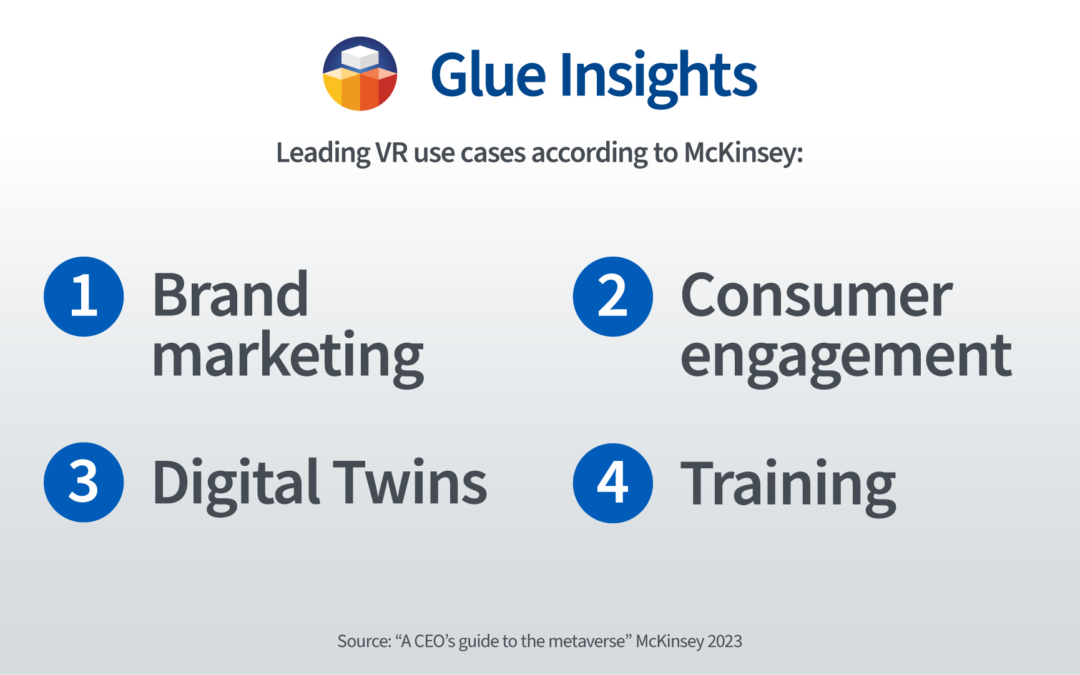 McKinsey & Company identified the leading VR use cases in "A CEO's guide to the metaverse". Let's have a closer look at them. 1. Brand marketing VR helps to strengthen a company's brand by creating a unique virtual experience. It can be a virtual product launch,...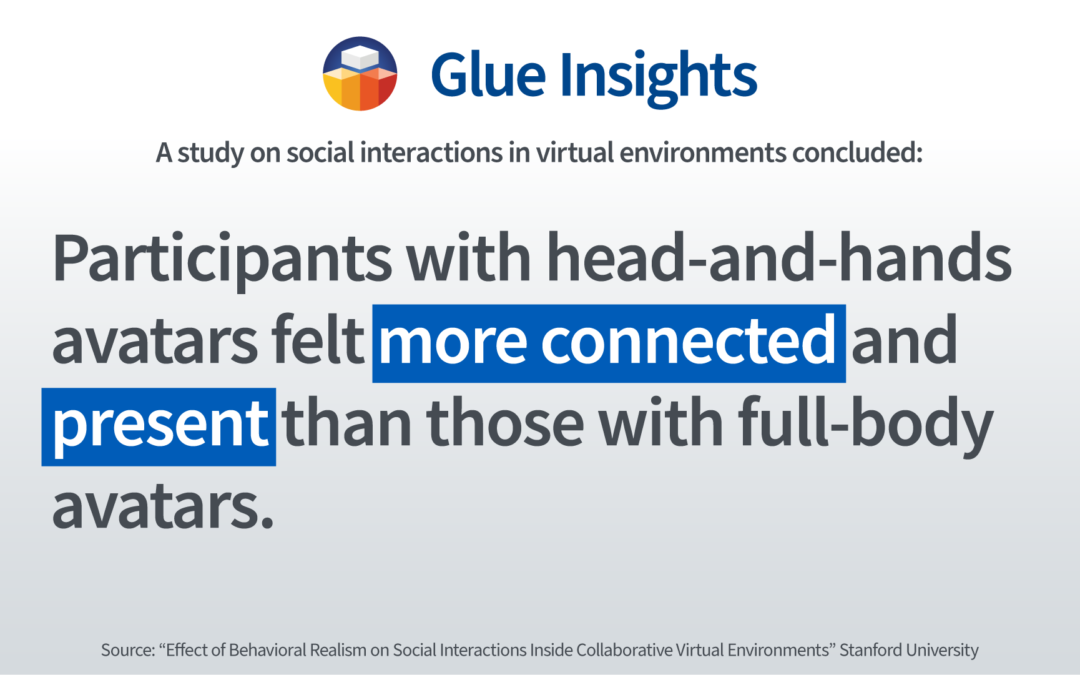 Stanford research on social interactions inside collaborative virtual environments concluded that participants with head-and-hands avatars felt more connected and present than those with full-body avatars. Here is why: 👇 1️⃣ When using a full-body avatar, a user is...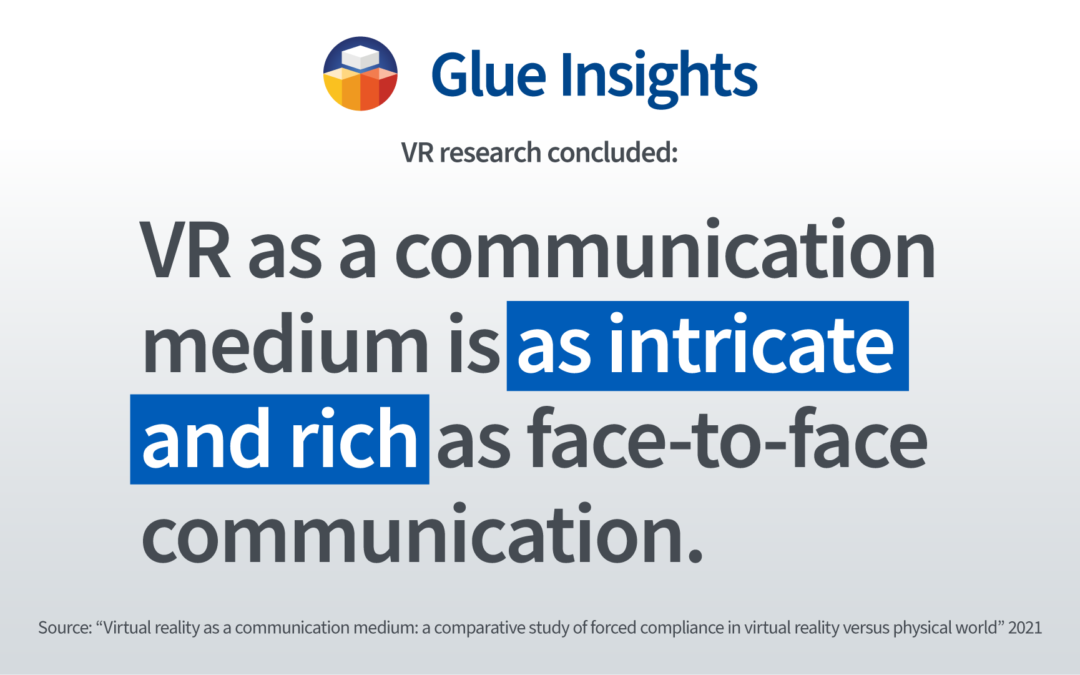 Virtual reality can facilitate communication that is just as intricate and rich as face-to-face interactions. That's the finding of the research study on VR as a communication medium. The study found that VR-mediated communication can be as complex and nuanced as...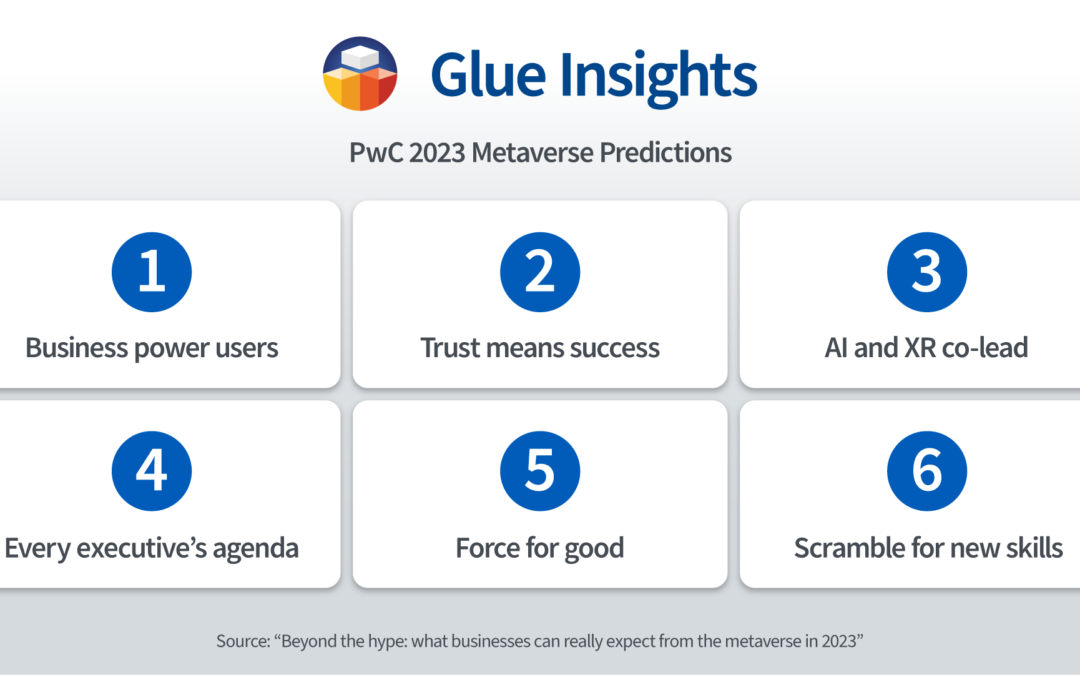 PwC identified six metaverse predictions that businesses can expect to take force in 2023. These are the four most fundamental ones: 1. Businesses will be the metaverse power users 💪 Business applications take the lead with practical use cases such as onboarding,...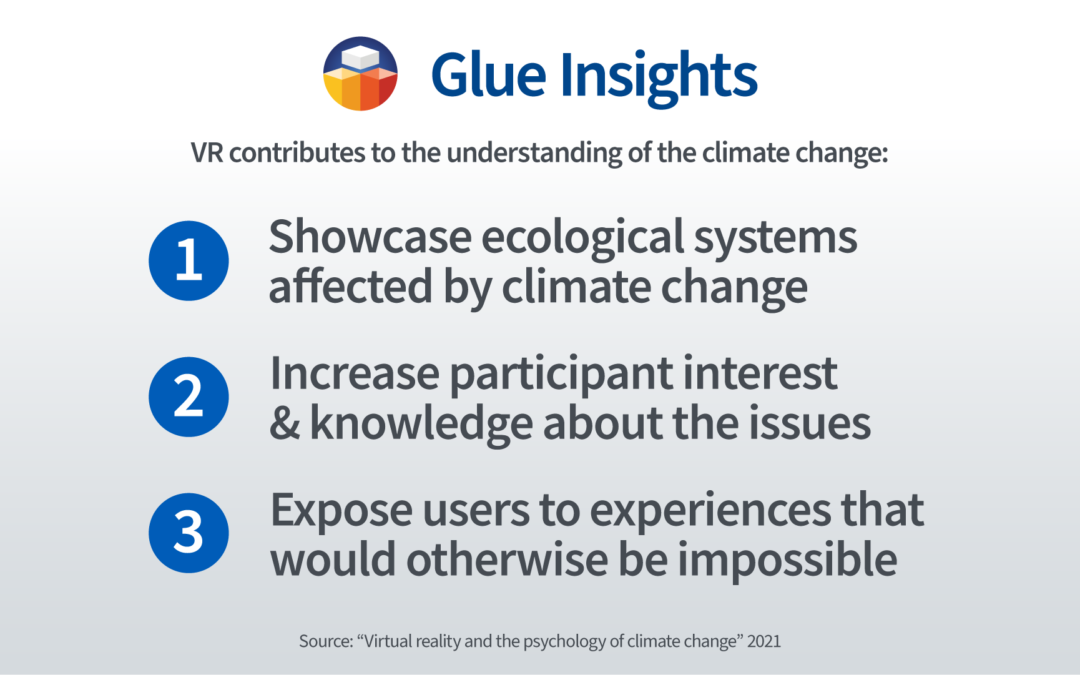 "VR experiences can make important contributions toward understanding psychological aspects of climate science." David M. Markowitz and Jeremy N. Bailenson reviewed the connection between VR and climate change and identified how the technology can be a useful tool to...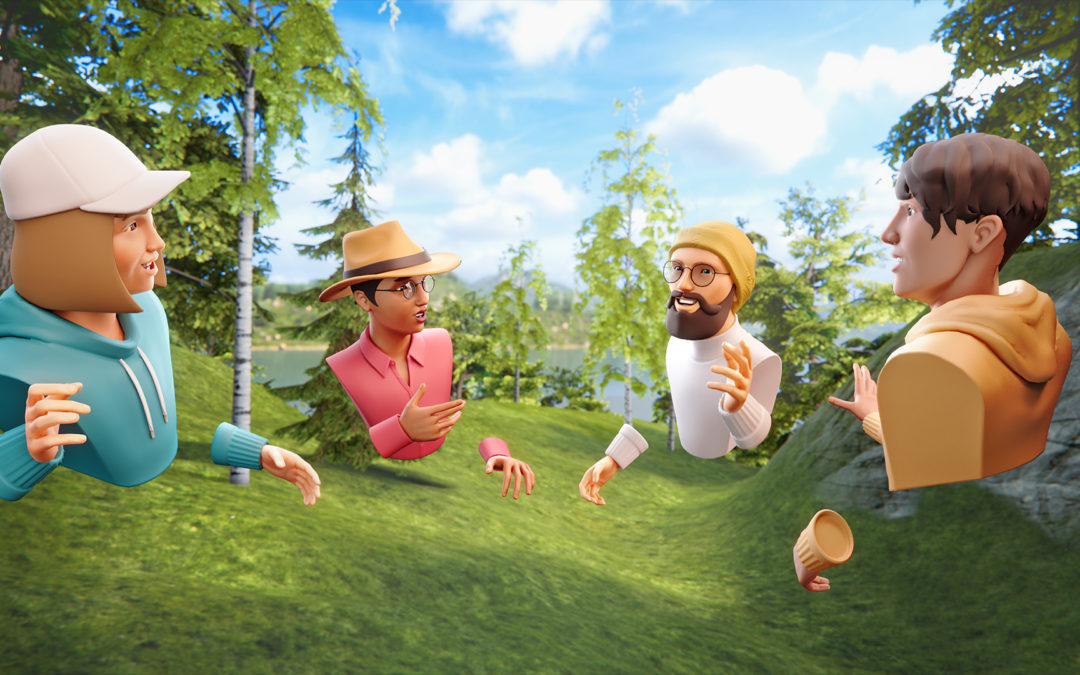 Different kinds of virtual spaces impact work productivity, creativity, and well-being in different ways, much like real-world environments do. In one of the largest studies of its kind, Stanford VR researchers have just shown how the size and location of virtual...