Glue now supports several productivity tools including Slack, Office 365, Google Workspace Apps, Salesforce and many more

Improved avatar configurator is here to elevate your AI-powered avatar to the next level

High five! Glue avatars have learned several gestures that supercharge your non verbal communication

New Glue Web is here to improve the management of your Glue Team
HELSINKI— JUNE 10, 2021— Glue Collaboration, the leader in collaborative, real-time VR software services, today announced a major new release that comes with a host of new features and usability improvements to elevate your virtual collaboration experience. "We believe this Glue update is an exciting step forward in the world of virtual collaboration," said Jussi Havu, CEO, Glue Collaboration. "For users, the ability to work with third-party tools in Glue brings a leap in productivity. At the same time, we're extending our lead in the field of remote presence by adding more customizability and interactivity to our avatars, making them the most interactive avatars in the market." Available to users from today, the new Glue is squarely focused on one thing: to make remote meetings as great as collaborating with people face to face.
Bring your favorite workflows into Glue
For starters, the new release embraces the fact that every team's workflow is unique. People mix and match their favorite digital tools to get the job done and at Glue we believe you should have the freedom to work the way you want. Which is why we're excited to announce that you can now use several popular enterprise tools during virtual meetings on Glue. We love how these tools take on a special quality when used in immersive 3D space. Rather than hunch over a laptop, you can now power through your usual workflows with the sensation of having your colleagues right by your side – just like in a real physical office.
Here's the full list of third-party apps that are supported with the June release of Glue:
Gmail
Google Sheets
Google Docs
Google Drive
Google Slides
Google Calendar
Jira
Miro
MURAL
Microsoft 365 (Word, Excel, Powerpoint, OneDrive, OneNote, Sharepoint and Teams)
Salesforce
Slack
Trello
Working in VR doesn't mean giving up your existing digital workflows. On the contrary, Glue can now help you get the most out of your favorite tools.
Personalize your AI-powered avatar

As part of the new release, Glue is debuting an improved avatar configurator. Instead of choosing from a library of appearances, you can now customize properties such as head appearance, hair and clothes to create an avatar truly in your own image.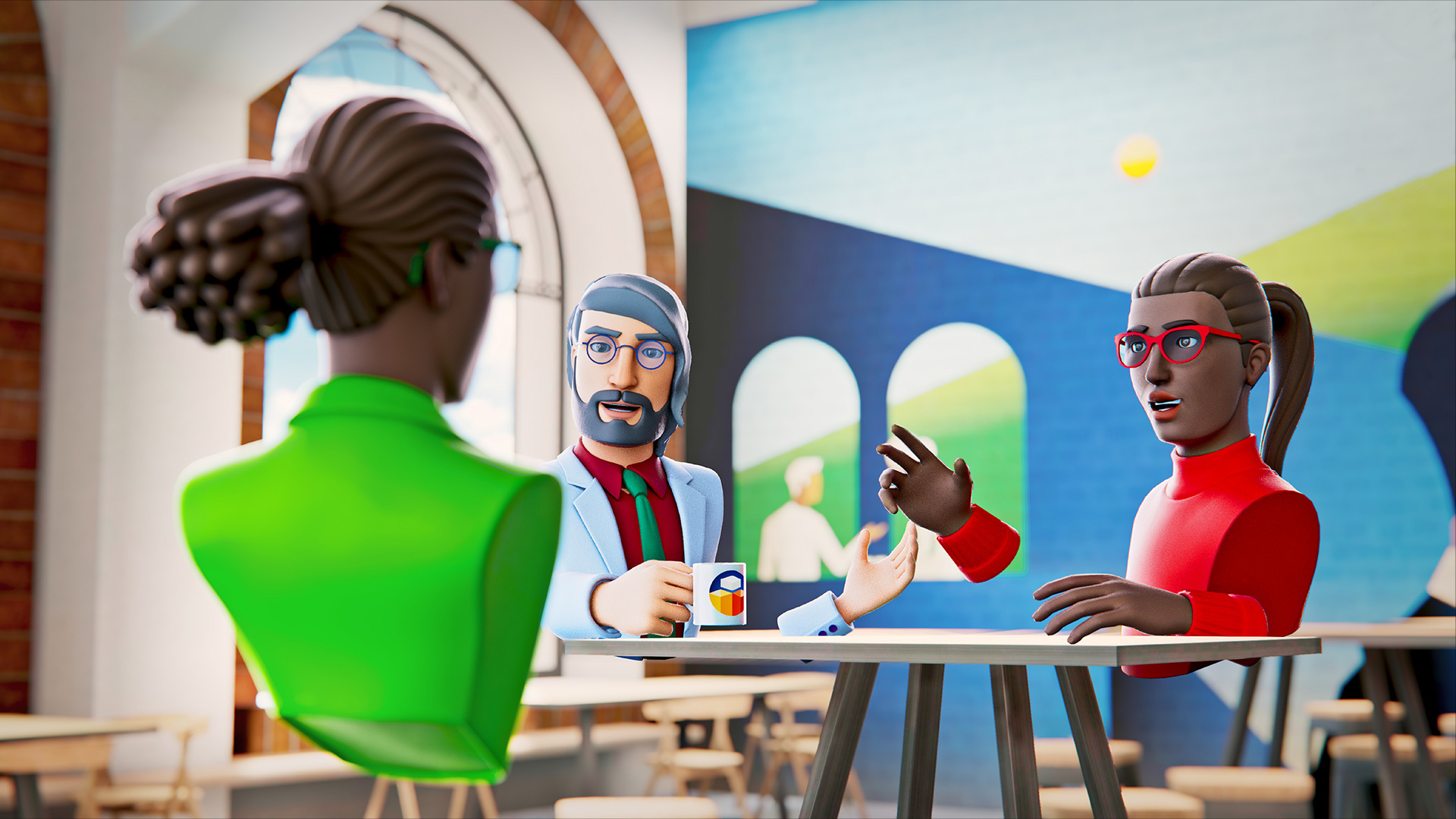 High fives all round!
We've also added avatar gestures to give you a new way to interact with your colleagues and customers. Shake hands, fist bump, hand out high fives, and give your high-performers a well-deserved round of applause. These features are available for both VR and desktop users.
Improved Glue Web and updated spaces
Finally, the new version of Glue also brings several usability enhancements, including to Glue Web , where it's now easier to manage your teams, files and spaces. And speaking of spaces, we've given Workshop and Project Garden a revamp. As part of their makeover, these spaces now have a completely new look and feel.
Ready to experience the new Glue? Start using Glue for free today here.